Drag Addicts
M
otormouth Hashgate Baldrick TT2 ShutupWally and dog Bonnie Cerberus Premature Chopstix Shandyman Flash Shirley John Liddell (hope that's right) with dogs Toby and Jasmine Dwight Centaur TurdTreader Glittertits PissQuick Iceman TinOpener Lilo Vlad Drac Snowballs Spex LoudonTasteless C5 Sue5 Lemming Mother Theresa OldDog SlackBladder Hamlet Fukawe Karen Eugene Donut Dutch Spot Motox BlouseBlazer SlowSucker Aqua Portia Cheating (but where was he?) Ms Whiplash Salome Nicola and dogs Buzz and Ben(I think) DragonLady Honeymonster Zebedee Florence Buggerall HeadBoy LadyBird Amanda Tony and dog Barney Straddlevarious MisDirection and others from R2D2, Winchester and N. Wilts and CabinBuoy who complained bitterly that his name is never in the list. It is now. Maybe it will be again…
The BH3 Red Dress Run 2006
I realise we now live in a much more sexually open society than ever and that's not a bad thing even though this may mean occasionally having to put up with Jordan pontificating about her carnal pursuits – "I got me needs innit!?" Or some desperate male Big Brother 'contestant' poncing about in women's clothing and pouting its' surgically enhanced lips like a surprised trout. You kind of expect it in the media. But not on a Sunday morning in the quiet, pretty little town of Kingsclere. The disparate collection of variously aged (and agéd) transvestites, male and female exhibitionists and fag hags in Fieldgate car park would have brought a sneer of disgust to even the most hardened Dogger. And if you don't know what Dogging is, ask Glittertits – he seems to know about these things. You see, Fukawe looked ok in a strappy, red, be-winged fairy dress with wand, fishnets and fashionably odd, bright socks. But there was something wrong seeing Hamlet in virtually identical get up. Or Motox in a red smock and beret, looking like the winner of 'The Tart You Would Least Like To Meet In A Dark Alley 2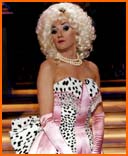 006' competition. Though Vlad and Drac, flouncing about in calf-length dresses (very fetching polka dots, Drac) brought more than a lump to the throat. BlouseBlazer looked quite appalling in a bubble wig and a dress he couldn't actually do up at the back – you have to measure under the bust as well as over it to get the right cup size, Blouse. And talking of busts, the purple-wigged Iceman put even Madonna and Jennifer Aniston to shame in the erect nipple stakes with a pair of 'em on which you could hang several coats and a couple of hats if you were so inclined. I couldn't bring myself to ask how (or indeed why) he achieved the effect, or whether his children had seen him before he started out to the Hash. I must mention TT2 who borrowed a size 14 mini skirt off me (I'm a 12 but I always carry a spare…); then told my son Motormouth (wearing a dark red silk party dress – I worry about that boy sometimes) it was a shame his father is now so unfit he could run him into the ground anytime; then couldn't shoehorn his enormously fat a*se into the skirt and had to run with the zip undone. Pride before a fall TT2, pride before a fall. But my personal 'Trannie Of The Day' award for the most stomach-churning, eyeball-popping, dear God keep me on the heterosexual straight and narrow goes to SlowSucker. A pleated, almost maroon confection in finest Crimplene draped perfectly over his shoulders and down to mid shin, topped off with a red cap that his wife wears while hoovering (nope, I don't know why either!). But the worst part was the knee-high black pop socks on his legs that poked out from under the swirling folds. Aaargh! Viewed usually only when a varicous-veined cleaning lady kneels over to scrub a floor these incredibly effective items of birth control are the most horrendous articles ever invented to adorn the female leg. And in this case, the male and hairy version. I take my hat off to you SlowSucker, for bravery, but don't ever let me see that again.
This cold and rainy Hash began with a brave but ultimately doomed attempt by our GM, Spex, to remember the father of Hashing - Albert Stephen Ignatius Gispert - on the anniversary of his death. Sadly, lack of preparation let her down badly but since Hashing is pretty disorganized at the best of times it seemed entirely appropriate. We gave her a ragged cheer and On Outed up the steep earth bank enjoying the sight of people sliding back down the slippery slope. Somehow I ended up with a small dog who had left its' owner (Liddell I think) behind. I had eaten earlier so I handed the shivering creature back and trotted off after C5 who was nursing a hangover the size of Scotland from Saturday's Burns Night and wearing a dress, hat, handbag and lipstick that put him in the Miss Marple School of women's casuals. Chopstix too had over-indulged and this had affected her colour vision, resulting in her wearing a pink dress. Perhaps red was a little strident for her delicate condition. A few false starts from Checks and a bit of help from Hare ShitShoveller had us frightening the locals around Kingsclere as we followed Premature, Cerberus (liked that short skirt and black tights even though she's a real lady) and SlowSucker before heading off into wet, miserable, sticky clay countryside and a damn long run in the rain with Centaur and Karen in harem pants (she looked a lot better than he did) towards a mist-hung belt of trees and the first Regroup. "Does my bum look big in this?" Asked erstwhile Cheeky Boy TT2 to Florence and me. "Actually, it looks big out of it." We agreed, viewing the vast acreage of buttock blubber that strained out over the top of the burst open skirt zip. How he managed to get up the subsequent bloody great big grass hill without splitting it completely I do not know. And how the rest of us managed to get up it at all is a mystery. Hopefully, no-one was videoing the scattered, panting knot of ever-slowing trannies struggling to climb the thing. And where did we go when we had reached the top? With only a minor diversion over a False, straight back down again! Where else. Trouble was, we were then contour running along a very slippery track. A couple of times Florence and I nearly slid sideways into the engulfing forest. Cerberus called out from behind, "Keep low." Ok, I thought and bent double in a fair impression of a transvestite Quazimodo on a cross-country race. Of course, she meant keep on the lowest part of the track. But it got a good laugh. Rather like just before the second Regroup when SlackBladder and LoudonTasteless pointed out a fine hare that raced past us down the hill. "On Hare!" I shouted, simply crackling and fizzing with immediate, matchless wit. It went very quiet. "Let's just get to the Regroup Dad." Whispered Motormouth in horrified, teenage embarrassment. Premature very kindly grabbed everyone's leg with clay-sticky hands as they heaved over the stile into the steep lane, leaving us with drying, grey chunks on our skin. Time for a comfort break, I thought, and nipped up the hill and into the bushes. I had just heaved up the skirt (front of, I might add, none of that girly squatting stuff) when Dwight, Centaur, SlowSucker et al dashed round the corner following the Long Trail. Great. With a sigh I peeled down the skirt and pasted after them – somewhat uncomfortably – for a big, rainy, windy, hill loop that finally saw most of us foxed by a misleading flour arrow. A ¼ mile in the wrong direction was probably the reason why most of us completely missed the beer stop! A long, uphill, exhausting, slippery track eventually got us to a narrow tarmac road. a) it went downhill and, b) Centaur said it led back to town. We raced down it gratefully, passing Motox and Foghorn, then two more fairies: Lemming and Mother Theresa. Not long to go. As I ran past the backs of houses after Dwight I noticed a couple of women smiling at the sight of us. "Hi there!" I said with a grin, trotting past. "Nice legs!" called one of them. It's this kind of thing that makes a girl's day.
It was very nice to get back to a large, warm building where we could change in relative comfort and enjoy a lavish buffet in good company. Not a bad end to a fine red Dress Run so many thanks go to today's Hares and event organisers. On On. Hashgate.
Down Downs
Standin RA OldDog, along with NoKnicks and Straddlevarious officiated. Apologies for only recording BH3 Down Downs. Space restriction and all that.
| | | |
| --- | --- | --- |
| Name | Reason | Style points |
| Chopstix | Wearing a pink dress | Still hungover. Handed it to Straddlevarious |
| Hamlet and Fukawe | Their stunning fairy dresses | Two straws, One glass. Drained quickly |
| TT2 | Failing to get into a large skirt | Got into the drink ok |
| Glittertits, PissQuick | Lost property – tanning lotion, wig | Lots of whinging about the taste |
| Baldrick | Blacking MisDirection's eye at the Burns Night. What a gent! | Slapped it down |
| Iceman | Best erect nipples award | It, unlike them, went down a treat |
Up and Coming
| | | | | |
| --- | --- | --- | --- | --- |
| Run | Date | Grid Reference | Venue | Hares |
| 1475 | 26/02/06 | 825675 | The White Horse, Wokingham | Chopstix Shandyman |
| 1476 | 05/03/06 | 625553 | The Swan, Sherbourne St. John | Hamlet, Mark |
A Question
If the phrase 'Direct I know…' means anything to you please contact me ;-)